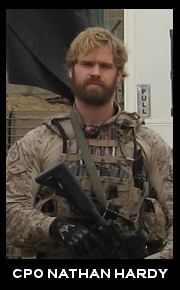 WOD
AMRAP in 20 min:
Muscle-up x 2
HS Push-up x 4
KB Swing x 8 (32/24 kg)
In honor of Chief Petty Officer Nate Hardy, who was killed Sunday, February 4th, 2008 during combat operations in Iraq. Nate is survived by his wife, Mindi, and his son Parker.
Notes
Scale muscle-ups to bands or transitions and HS push-ups to boxes with parallettes.