Come join us at the Moto Saloon next door for some food and drinks around 6:30 pm today! RSVP here.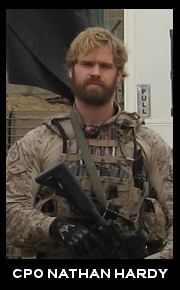 Skill
Front Squat @ 22X0; 3 sets of 4-6 reps
Light weight, short rest, emphasize full squat depth
22X0 means 2 sec down, hold 2 sec, up fast, and go again
WOD
Half-Nate
Level 1
AMRAP in 10 minutes of:
Pull-up x 4
Push-up x 6
"Russian" KB Swing (53/35#) x 8
Level 2
AMRAP in 10 minutes of:
Muscle-up x 2
Handstand Push-up x 4
"American" KB Swing (70/53#) x 8
In honor of Chief Petty Officer Nate Hardy, who was killed Sunday, February 4th, 2008 during combat operations in Iraq. Nate is survived by his wife Mindi and his son Parker.